Texas Blues-Rock Vinyl Weekend! 📀 I'll be listening to:
ZZ Top – Tejas (1976)
Johnny Winter – The First Album (1969)
Stevie Ray Vaughan – Texas Flood (1983)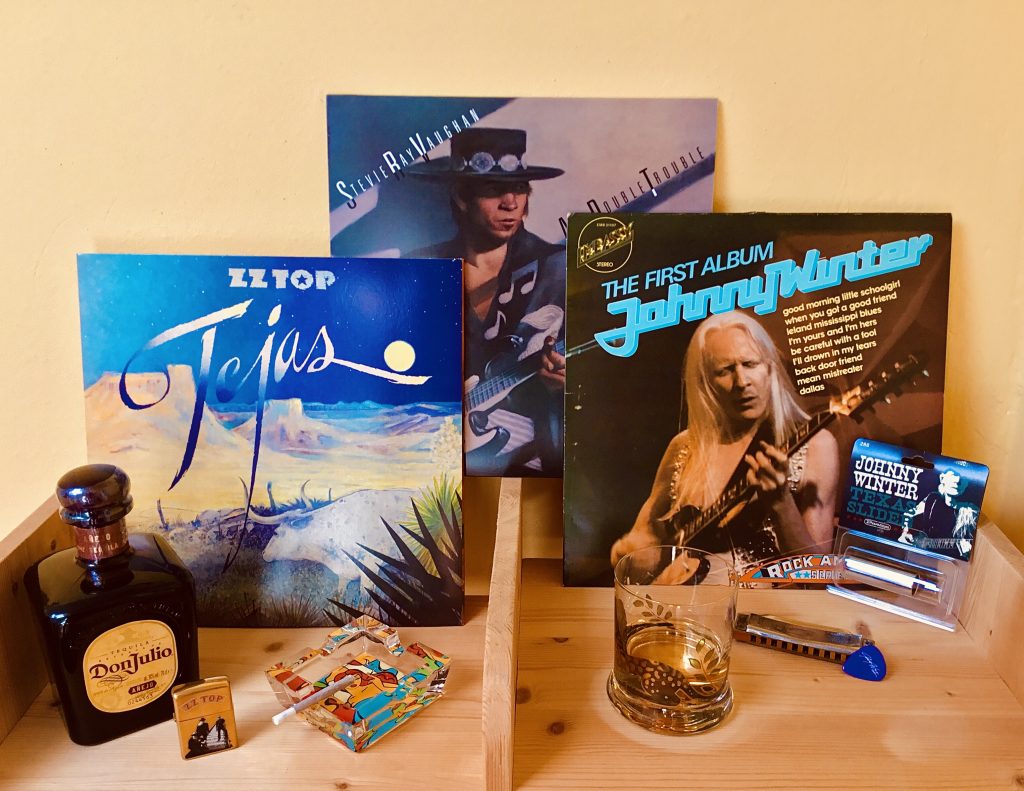 Insights: 'Tejas' is my favorite ZZ Top album. It conveys a mystical mood, it makes you feel the Texas heat while rollin' in your automobile on a lonesome highway. Puddles of oil shimmer in rainbow colors and you can literally smell the smell of gasoline. In terms of attitude & vibes, sophisticated arrangements, guitar sounds and production, this album was way ahead of its time! Have mercy, how can anybody be so unkind, to arrest a man for driving while blind… 😎
Johnny Winter was my first guitar hero, my all time favorite and a huge influence! I copied his licks, his style, his tone… I just wanted to play like him. 44 years later, his unmistakeable fluid style still makes me smile. Johnny was unique, his playing on the slow Blues 'Be Careful With a Fool' is breathtaking! Did you know that Winter was signed by Columbia Records in 1969 for $600,000 (then an unprecedented sum for a solo artist) and performed in sold-out arenas like the Oakland Coliseum (63.132 seats)?! Hey, keep in mind we're talking about a Blues guitarist here… 🎸
Stevie Ray brought back the Blues to a wider audience when this kind of music had become an obscure niche by the 1980s. He even gained notoriety with mainstream audiences for playing on David Bowie's album 'Let's Dance'. However, he turned down the offer to tour with Bowie, preferring to play the Blues with his own band, traveling from venue to venue in an old milk truck… His massive tone and virtuosity have often been imitated but never equaled. 'Texas Flood' is a milestone, pure Texas Blues power at its best! 🎶
Have a great Texas Blues-Rock vinyl weekend everyone!