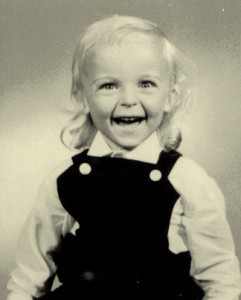 Tom Riepl (*1961) grew up in Bavaria (Southern Germany) and started playing guitar at age 13. He was fascinated by the Blues, listening to Lightning Hopkins, Rory Gallagher, Eric Clapton, Robert Johnson, Muddy Waters, Chuck Berry, B.B. King and learning many of them Blues standards by ear & off the records. Johnny Winter, Dickey Betts and the Allman Brothers Band were his heroes and Tom soaked up all these Blues-Rock licks. By age 22 he had already played a great many of club gigs with different local bands and meanwhile was known to be a very versatile player.
Lee Ritenour, Larry Carlton, Edward van Halen, Jeff Beck, The Dixie Dregs, Huey Lewis & The News as well as Jazz-Rock and film & TV music in general have been Tom's major influences back in the late '70s and early '80s. He worked steady on his playing technique, kept on improving his musical skills and eventually began developing his own style.
From 1984 – 1986 Tom studied at the M.G.I. (Munich Guitar Institute) and graduated as best student of the year. He began working as a guitar teacher, studio musician and recorded his first album as a solo artist. In 1994 Tom won the Charvel/Jackson competition 'Germany's Best Guitar Player' (well, for Tom that's nothing of importance, yet for most people a matter of prestige…).
As a clinician he worked for companies like Starfield, Roland, Rocktron, Taylor, Ibanez, Rodenberg and performed regularly at the Musikmesse (music trade show) in Frankfurt, Germany.
Over the years Tom has performed and/or recorded with the following artists: Joey De Francesco, Scott Wilkie, Quintin Berry, Willy Astor, Tom Riepl Band, Adrian Scott (Little River Band), Craig Newman, Lee Thornburg (Tower Of Power, Tom Petty, Huey Lewis & The News), Gerry Pantazis, The Cayenne Brothers Band, Willie Salomon, Lon Price (Al Jarreau, Rod Stewart), Oliver Rajamani, Lauren Turner (American Idol Finalist), Uncle Ernie, John Creech, Full House, Steve Wade (Little River Band), Kathryn Scheldt, Peter Fessler, Double Fun Unlimited, Jaime Kyle, Dave Jenkins (Pablo Cruise), Barry Volk, Kellie Rucker, John Cotroneo, Missing-O-Love, The Trip, Red Young (Eric Burdon, Linda Ronstadt), Premiata, The Hill Valley Orchestra, Jeff Richman, Robben Ford, Danny Infante (Bo Diddley, The Four Tops), Pete Wehner, Jeff Fidler, Brannen Temple (Robben Ford, Chaka Khan, Eric Johnson), Curtis Ray, Rick Hirsch (Wet Willie, Gregg Allman Band, Joan Armatrading), Jennifer Allas, Lee Ritenour, and Huey Lewis!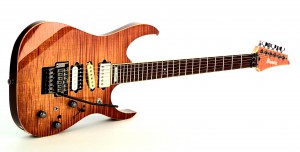 Moreover Tom has been honored by the Ibanez Company with the RG-PB-TOM, a signature guitar built to his own specifications (Thanks to Mike Shimada of Ibanez and to Meinl Distribution, Germany). Tom also was an endorser for Carvin guitars for a short period, before he teamed up with German manufacturer Rodenberg. As a result of this consistent partnership the official 'Tom Riepl Overdrive Pedal' by Rodenberg successfully hit the market in 2007. A limited edition 15th anniversary Tomtone Overdrive (an updated special version of the original device) was released in 2022.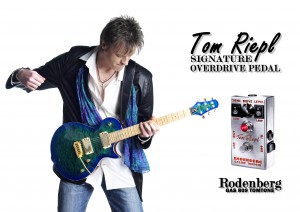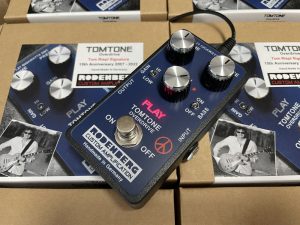 Ladner Engineering, a custom amp shop located in Bay St. Louis, Mississippi builds the Tomtone Deluxe™, a guitar amplifier custom made to Tom's tone & playing style and meanwhile known as the official Tom Riepl Signature amp. Tom also played a part in developing the Nightfly™, another cool and awesome sounding amp from the Ladner factory…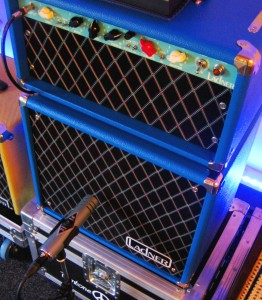 Tom Riepl has released 7 solo albums. His most famous album PLAY> includes guest performances by Huey Lewis, Lee Ritenour, Rick Hirsch, Lauren Turner, Red Young and many more great players. Tom has also played on many other artist's records, he works as a studio musician & session player, and is also known for his 'Stringbound' column (January 2000 – November 2018) in Gitarre&Bass, Germany's premier guitar magazine.
In 2021 Tom was honored with the Culture Award of the County of Regen. This award recognizes outstanding achievements in the cultural, artistic and scientific fields.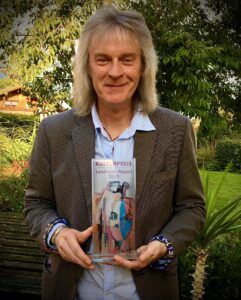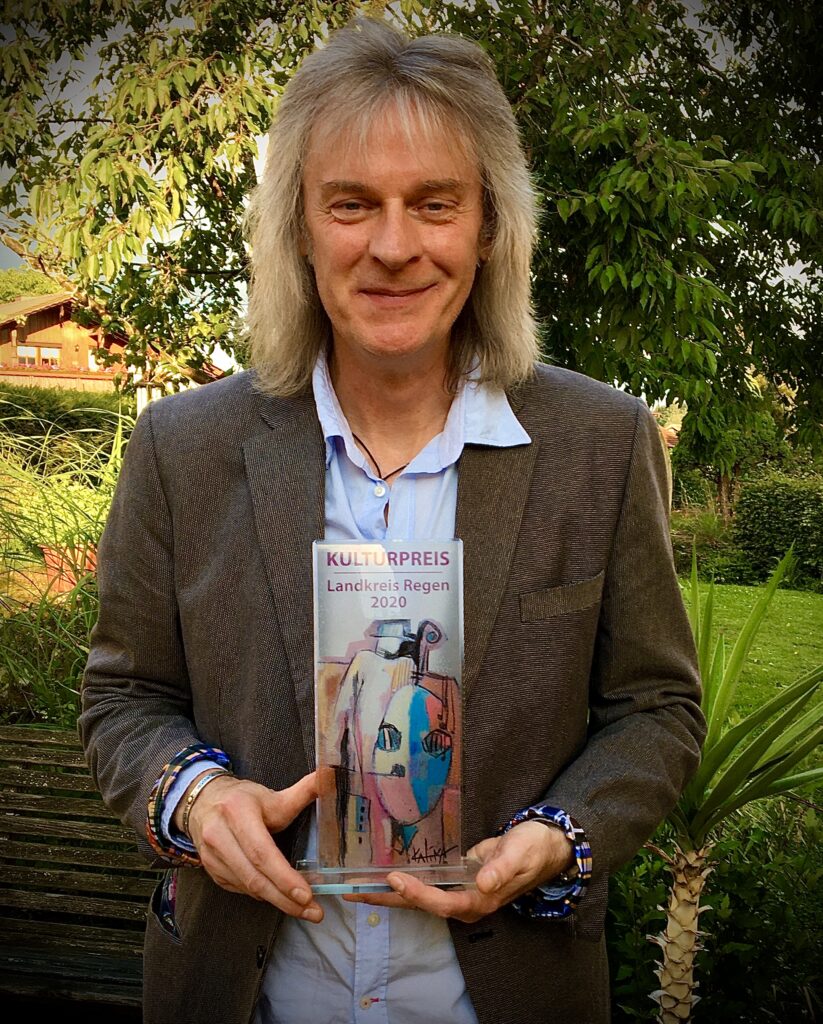 According to the press, fans and renowned fellow musicians Tom Riepl is considered a famous guitar player and composer with individual style & unique tone!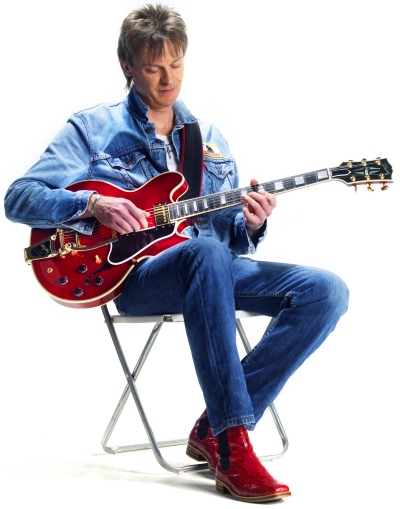 'It's probably safe to say that if you like Steely Dan, you'd like this – but Riepl definitely maintains his own voice…' (Bay Weekend, Mobile, AL)