HAPPY NEW YEAR EVERYONE! ?
Wishing y'all a w☮️nderful 2019!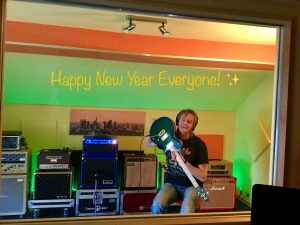 Many thanks for friendship & support and please don't forget the great musicians, friends and beloved persons we have lost in 2018: Rick Hall, France Gall, Ray Thomas, Fast Eddie Clarke, Dave Holland, Jim Rodford, Dolores O'Riordan, Edwin Hawkins, Craig MacGregor, Coco Schumann, Ndugu Chancler, Charles Neville, John Perry Barlow, Pat Torpey, Scott Boyer, Didier Lockwood, Russ Solomon, Jon Hiseman, Vinnie Paul, D.J. Fontana, Yvonne Staples, Tom Wheeler, John Starks, Nokie Edwards, Peter Cowling, Eddy Clearwater, Jabo Starks, Eddie Willis, Conway Savage, Matt Guitar Murphy, Danny Kirwan, Aretha Franklin, Ed King, Max Bennett, Otis Rush, Marty Balin, Charles Aznavour, Jimmy Farrar, Glenn Schwartz, Bob Bain, Montserrat Caballé, Wah Wah Watson, Hugh McDowell, Tony Joe White, Roy Clark, Al James, Jody Williams, Calvin Newborn, Joe Osborn, Nancy Wilson♩♪♫♬ and all those I forgot to mention here… Thank you!!